The Flesh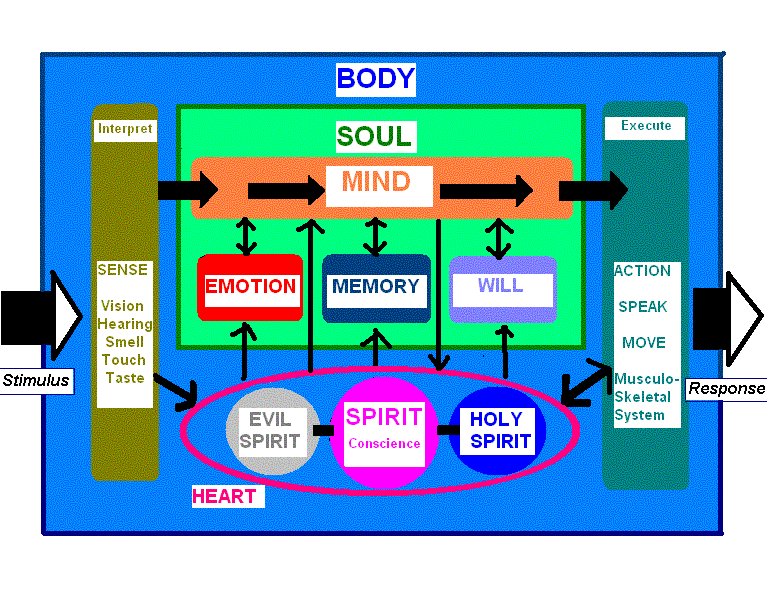 THE TERM FLESH USUALLY REFERS TO OUR BODY OR THE SUBSTANCE THAT WE ARE MADE OF
The Body is our physical representation, structure and composition
We use it to interface with the world
It includes our eyes and ears, our brain, our arms and legs, our face etc
It limits what we can see, hear & feel, what we can understand and what we can do
OUR FLESH (BODY) WILL BE TRANSFIGURED IN THE TWINKLING OF AN EYE WHEN CHRIST COMES TO REDEEM US

WE WILL HAVE A NEW BODY, A SPIRITUAL BODY
'FLESH' CAN ALSO REFER TO THE UNREGENERATED SPIRIT OF AN UNBELIEVER
THE FLESH IS THE SOURCE OF OUR NATURAL DESIRES AND INSTINCTS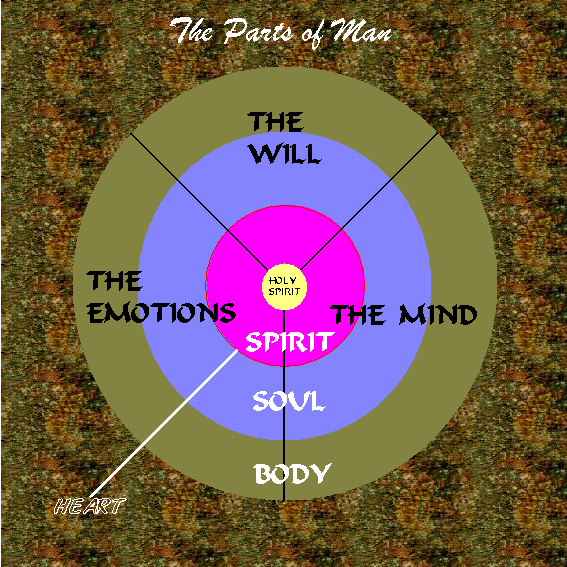 Fill my heart with your Spirit Oh Lord
The Flesh
Gen 2:21 So the LORD God caused the man to fall into a deep sleep; and while he was sleeping, he took one of the man's ribs and closed up the place with flesh.

Gen 2:23 The man said, "This is now bone of my bones and flesh of my flesh; she shall be called 'woman, ' for she was taken out of man."

Gen 2:24 For this reason a man will leave his father and mother and be united to his wife, and they will become one flesh.

Gen 17:13 Whether born in your household or bought with your money, they must be circumcised. My covenant in your flesh is to be an everlasting covenant.

Gen 17:14 Any uncircumcised male, who has not been circumcised in the flesh, will be cut off from his people; he has broken my covenant."

Gen 29:14 Then Laban said to him, "You are my own flesh and blood." After Jacob had stayed with him for a whole month,

Gen 37:27 Come, let's sell him to the Ishmaelites and not lay our hands on him; after all, he is our brother, our own flesh and blood." His brothers agreed.

Gen 40:19 Within three days Pharaoh will lift off your head and hang you on a tree. And the birds will eat away your flesh."

Exo 4:7 "Now put it back into your cloak," he said. So Moses put his hand back into his cloak, and when he took it out, it was restored, like the rest of his flesh.

Exo 29:14 But burn the bull's flesh and its hide and its offal outside the camp. It is a sin offering.

Lev 4:11 But the hide of the bull and all its flesh, as well as the head and legs, the inner parts and offal--

Lev 6:27 Whatever touches any of the flesh will become holy, and if any of the blood is spattered on a garment, you must wash it in a holy place.

Lev 8:17 But the bull with its hide and its flesh and its offal he burned up outside the camp, as the LORD commanded Moses.

Lev 9:11 the flesh and the hide he burned up outside the camp.

Lev 13:10 The priest is to examine him, and if there is a white swelling in the skin that has turned the hair white and if there is raw flesh in the swelling,

Lev 13:14 But whenever raw flesh appears on him, he will be unclean.

Lev 13:15 When the priest sees the raw flesh, he shall pronounce him unclean. The raw flesh is unclean; he has an infectious disease.

Lev 13:16 Should the raw flesh change and turn white, he must go to the priest.

Lev 13:24 "When someone has a burn on his skin and a reddish-white or white spot appears in the raw flesh of the burn,

Lev 16:27 The bull and the goat for the sin offerings, whose blood was brought into the Most Holy Place to make atonement, must be taken outside the camp; their hides, flesh and offal are to be burned up.

Lev 26:29 You will eat the flesh of your sons and the flesh of your daughters.

Num 12:12 Do not let her be like a stillborn infant coming from its mother's womb with its flesh half eaten away."

Num 19:5 While he watches, the heifer is to be burned--its hide, flesh, blood and offal.

Deu 28:53 Because of the suffering that your enemy will inflict on you during the siege, you will eat the fruit of the womb, the flesh of the sons and daughters the LORD your God has given you.

Deu 28:55 and he will not give to one of them any of the flesh of his children that he is eating. It will be all he has left because of the suffering your enemy will inflict on you during the siege of all your cities.

Deu 32:42 I will make my arrows drunk with blood, while my sword devours flesh: the blood of the slain and the captives, the heads of the enemy leaders."

Judg 8:7 Then Gideon replied, "Just for that, when the LORD has given Zebah and Zalmunna into my hand, I will tear your flesh with desert thorns and briers."

Judg 9:2 "Ask all the citizens of Shechem, 'Which is better for you: to have all seventy of Jerub-Baal's sons rule over you, or just one man?' Remember, I am your flesh and blood."

1 Sam 17:44 "Come here," he said, "and I'll give your flesh to the birds of the air and the beasts of the field!"

2 Sam 1:22 From the blood of the slain, from the flesh of the mighty, the bow of Jonathan did not turn back, the sword of Saul did not return unsatisfied.

2 Sam 5:1 All the tribes of Israel came to David at Hebron and said, "We are your own flesh and blood.

2 Sam 16:11 David then said to Abishai and all his officials, "My son, who is of my own flesh, is trying to take my life. How much more, then, this Benjamite! Leave him alone; let him curse, for the LORD has told him to.

2 Sam 19:12 You are my brothers, my own flesh and blood. So why should you be the last to bring back the king?'

2 Sam 19:13 And say to Amasa, 'Are you not my own flesh and blood? May God deal with me, be it ever so severely, if from now on you are not the commander of my army in place of Joab.'"

1 Ki 8:19 Nevertheless, you are not the one to build the temple, but your son, who is your own flesh and blood--he is the one who will build the temple for my Name.'

2 Ki 5:10 Elisha sent a messenger to say to him, "Go, wash yourself seven times in the Jordan, and your flesh will be restored and you will be cleansed."

2 Ki 5:14 So he went down and dipped himself in the Jordan seven times, as the man of God had told him, and his flesh was restored and became clean like that of a young boy.

2 Ki 9:36 They went back and told Jehu, who said, "This is the word of the LORD that he spoke through his servant Elijah the Tishbite: On the plot of ground at Jezreel dogs will devour Jezebel's flesh.

2 Ki 20:18 And some of your descendants, your own flesh and blood, that will be born to you, will be taken away, and they will become eunuchs in the palace of the king of Babylon."

1 Chr 11:1 All Israel came together to David at Hebron and said, "We are your own flesh and blood.

2 Chr 6:9 Nevertheless, you are not the one to build the temple, but your son, who is your own flesh and blood--he is the one who will build the temple for my Name.'

2 Chr 32:8 With him is only the arm of flesh, but with us is the LORD our God to help us and to fight our battles." And the people gained confidence from what Hezekiah the king of Judah said.

Neh 5:5 Although we are of the same flesh and blood as our countrymen and though our sons are as good as theirs, yet we have to subject our sons and daughters to slavery. Some of our daughters have already been enslaved, but we are powerless, because our fields and our vineyards belong to others."

Job 2:5 But stretch out your hand and strike his flesh and bones, and he will surely curse you to your face."

Job 6:12 Do I have the strength of stone? Is my flesh bronze?

Job 10:4 Do you have eyes of flesh? Do you see as a mortal sees?

Job 10:11 clothe me with skin and flesh and knit me together with bones and sinews?

Job 15:27 "Though his face is covered with fat and his waist bulges with flesh,

Job 19:22 Why do you pursue me as God does? Will you never get enough of my flesh?

Job 19:26 And after my skin has been destroyed, yet in my flesh I will see God;

Job 33:21 His flesh wastes away to nothing, and his bones, once hidden, now stick out.

Job 33:25 then his flesh is renewed like a child's; it is restored as in the days of his youth.

Job 41:23 The folds of his flesh are tightly joined; they are firm and immovable.

Psa 27:2 When evil men advance against me to devour my flesh, when my enemies and my foes attack me, they will stumble and fall.

Psa 50:13 Do I eat the flesh of bulls or drink the blood of goats?

Psa 73:26 My flesh and my heart may fail, but God is the strength of my heart and my portion forever.

Psa 78:39 He remembered that they were but flesh, a passing breeze that does not return.

Psa 79:2 They have given the dead bodies of your servants as food to the birds of the air, the flesh of your saints to the beasts of the earth.

Psa 84:2 My soul yearns, even faints, for the courts of the LORD; my heart and my flesh cry out for the living God.

Psa 119:120 My flesh trembles in fear of you; I stand in awe of your laws.

Prov 5:11 At the end of your life you will groan, when your flesh and body are spent.

Isa 9:20 On the right they will devour, but still be hungry; on the left they will eat, but not be satisfied. Each will feed on the flesh of his own offspring :

Isa 31:3 But the Egyptians are men and not God; their horses are flesh and not spirit. When the LORD stretches out his hand, he who helps will stumble, he who is helped will fall; both will perish together.

Isa 39:7 And some of your descendants, your own flesh and blood who will be born to you, will be taken away, and they will become eunuchs in the palace of the king of Babylon."

Isa 49:26 I will make your oppressors eat their own flesh; they will be drunk on their own blood, as with wine. Then all mankind will know that I, the LORD, am your Savior, your Redeemer, the Mighty One of Jacob."

Isa 58:7 Is it not to share your food with the hungry and to provide the poor wanderer with shelter-- when you see the naked, to clothe him, and not to turn away from your own flesh and blood?

Isa 65:4 who sit among the graves and spend their nights keeping secret vigil; who eat the flesh of pigs, and whose pots hold broth of unclean meat;

Isa 66:17 "Those who consecrate and purify themselves to go into the gardens, following the one in the midst of those who eat the flesh of pigs and rats and other abominable things--they will meet their end together," declares the LORD.

Jer 9:25 "The days are coming," declares the LORD, "when I will punish all who are circumcised only in the flesh--

Jer 17:5 This is what the LORD says: "Cursed is the one who trusts in man, who depends on flesh for his strength and whose heart turns away from the LORD.

Jer 19:9 I will make them eat the flesh of their sons and daughters, and they will eat one another's flesh during the stress of the siege imposed on them by the enemies who seek their lives.'

Jer 51:35 May the violence done to our flesh be upon Babylon," say the inhabitants of Zion. "May our blood be on those who live in Babylonia," says Jerusalem.

Lam 3:4 He has made my skin and my flesh grow old and has broken my bones.

Ezek 11:19 I will give them an undivided heart and put a new spirit in them; I will remove from them their heart of stone and give them a heart of flesh.

Ezek 32:5 I will spread your flesh on the mountains and fill the valleys with your remains.

Ezek 32:6 I will drench the land with your flowing blood all the way to the mountains, and the ravines will be filled with your flesh.

Ezek 36:26 I will give you a new heart and put a new spirit in you; I will remove from you your heart of stone and give you a heart of flesh.

Ezek 37:6 I will attach tendons to you and make flesh come upon you and cover you with skin; I will put breath in you, and you will come to life. Then you will know that I am the LORD.'"

Ezek 37:8 I looked, and tendons and flesh appeared on them and skin covered them, but there was no breath in them.

Ezek 39:17 "Son of man, this is what the Sovereign LORD says: Call out to every kind of bird and all the wild animals: 'Assemble and come together from all around to the sacrifice I am preparing for you, the great sacrifice on the mountains of Israel. There you will eat flesh and drink blood.

Ezek 39:18 You will eat the flesh of mighty men and drink the blood of the princes of the earth as if they were rams and lambs, goats and bulls--all of them fattened animals from Bashan.

Ezek 40:43 And double-pronged hooks, each a handbreadth long, were attached to the wall all around. The tables were for the flesh of the offerings.

Ezek 44:7 In addition to all your other detestable practices, you brought foreigners uncircumcised in heart and flesh into my sanctuary, desecrating my temple while you offered me food, fat and blood, and you broke my covenant.

Ezek 44:9 This is what the Sovereign LORD says: No foreigner uncircumcised in heart and flesh is to enter my sanctuary, not even the foreigners who live among the Israelites.

Dan 7:5 "And there before me was a second beast, which looked like a bear. It was raised up on one of its sides, and it had three ribs in its mouth between its teeth. It was told, 'Get up and eat your fill of flesh!'

Micah 3:2 you who hate good and love evil; who tear the skin from my people and the flesh from their bones;

Micah 3:3 who eat my people's flesh, strip off their skin and break their bones in pieces; who chop them up like meat for the pan, like flesh for the pot?"

Zec 11:9 and said, "I will not be your shepherd. Let the dying die, and the perishing perish. Let those who are left eat one another's flesh."

Zec 14:12 This is the plague with which the LORD will strike all the nations that fought against Jerusalem: Their flesh will rot while they are still standing on their feet, their eyes will rot in their sockets, and their tongues will rot in their mouths.

Mal 2:15 Has not the LORD made them one? In flesh and spirit they are his. And why one? Because he was seeking godly offspring. So guard yourself in your spirit, and do not break faith with the wife of your youth.

Mat 19:5 and said, 'For this reason a man will leave his father and mother and be united to his wife, and the two will become one flesh'?

Mark 10:8 and the two will become one flesh.' So they are no longer two, but one.

Luke 24:39 Look at my hands and my feet. It is I myself! Touch me and see; a ghost does not have flesh and bones, as you see I have."

John 1:14 The Word became flesh and made his dwelling among us. We have seen his glory, the glory of the One and Only, who came from the Father, full of grace and truth.

John 3:6 flesh gives birth to flesh, but the Spirit gives birth to spirit.

John 6:51 I am the living bread that came down from heaven. If anyone eats of this bread, he will live forever. This bread is my flesh, which I will give for the life of the world."

John 6:52 Then the Jews began to argue sharply among themselves, "How can this man give us his flesh to eat?"

John 6:53 Jesus said to them, "I tell you the truth, unless you eat the flesh of the Son of Man and drink his blood, you have no life in you.

John 6:54 Whoever eats my flesh and drinks my blood has eternal life, and I will raise him up at the last day.

John 6:55 For my flesh is real food and my blood is real drink.

John 6:56 Whoever eats my flesh and drinks my blood remains in me, and I in him.

John 6:63 The Spirit gives life; the flesh counts for nothing. The words I have spoken to you are spirit and they are life.

1 Cor 6:16 Do you not know that he who unites himself with a prostitute is one with her in body? For it is said, "The two will become one flesh."

1 Cor 15:39 All flesh is not the same: Men have one kind of flesh, animals have another, birds another and fish another.

1 Cor 15:50 I declare to you, brothers, that flesh and blood cannot inherit the kingdom of God, nor does the perishable inherit the imperishable.

2 Cor 12:7 To keep me from becoming conceited because of these surpassingly great revelations, there was given me a thorn in my flesh, a messenger of Satan, to torment me.

Gal 6:13 Not even those who are circumcised obey the law, yet they want you to be circumcised that they may boast about your flesh.

Eph 2:15 by abolishing in his flesh the law with its commandments and regulations. His purpose was to create in himself one new man out of the two, thus making peace,

Eph 5:31 "For this reason a man will leave his father and mother and be united to his wife, and the two will become one flesh."

Eph 6:12 For our struggle is not against flesh and blood, but against the rulers, against the authorities, against the powers of this dark world and against the spiritual forces of evil in the heavenly realms.

Phil 3:2 Watch out for those dogs, those men who do evil, those mutilators of the flesh.

Phil 3:3 For it is we who are the circumcision, we who worship by the Spirit of God, who glory in Christ Jesus, and who put no confidence in the flesh--

Phil 3:4 though I myself have reasons for such confidence. If anyone else thinks he has reasons to put confidence in the flesh, I have more:

Col 1:24 Now I rejoice in what was suffered for you, and I fill up in my flesh what is still lacking in regard to Christ's afflictions, for the sake of his body, which is the church.

Heb 2:14 Since the children have flesh and blood, he too shared in their humanity so that by his death he might destroy him who holds the power of death--that is, the devil--

James 5:3 Your gold and silver are corroded. Their corrosion will testify against you and eat your flesh like fire. You have hoarded wealth in the last days.

1 John 4:2 This is how you can recognize the Spirit of God: Every spirit that acknowledges that Jesus Christ has come in the flesh is from God,

2 John 1:7 Many deceivers, who do not acknowledge Jesus Christ as coming in the flesh, have gone out into the world. Any such person is the deceiver and the antichrist.

Jude 1:23 snatch others from the fire and save them; to others show mercy, mixed with fear--hating even the clothing stained by corrupted flesh.

Rev 17:16 The beast and the ten horns you saw will hate the prostitute. They will bring her to ruin and leave her naked; they will eat her flesh and burn her with fire.

Rev 19:18 so that you may eat the flesh of kings, generals, and mighty men, of horses and their riders, and the flesh of all people, free and slave, small and great."

Rev 19:21 The rest of them were killed with the sword that came out of the mouth of the rider on the horse, and all the birds gorged themselves on their flesh.