The Spirit Of Man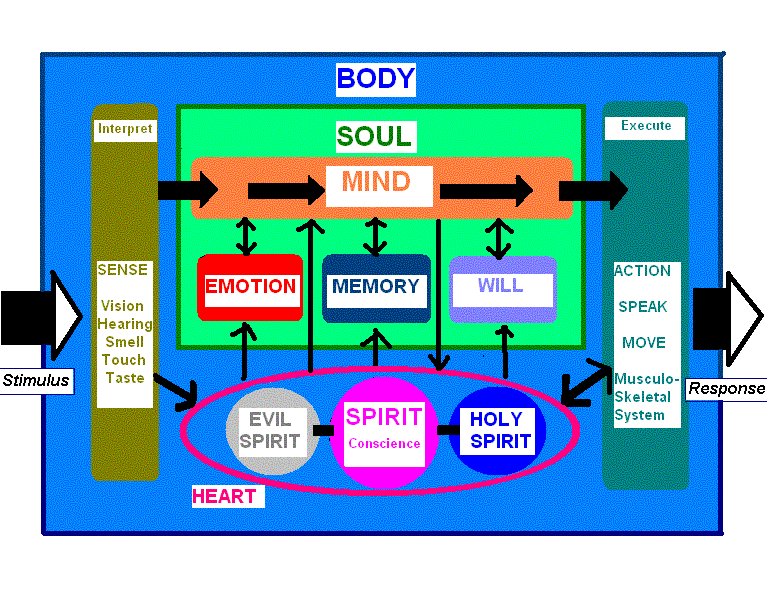 OUR SPIRIT DETERMINES WHAT SORT OF PERSON WE ARE
WHETHER WE ARE GOOD OR BAD
OUR SPIRIT IS REGENERATED WHEN WE ARE
BAPTIZED IN THE SPIRIT / BORN AGAIN
AS WE BECOME A CHILD OF GOD BY FAITH
THE HOLY SPIRIT WITNESSES WITH OUR SPIRIT
ANGELS AND DEMONS CAN ALSO PUT THINGS INTO OUR SPIRIT
OUR CONSCIENCE AND INTUITION GIVE US AN AWARENESS OF THE SPIRIT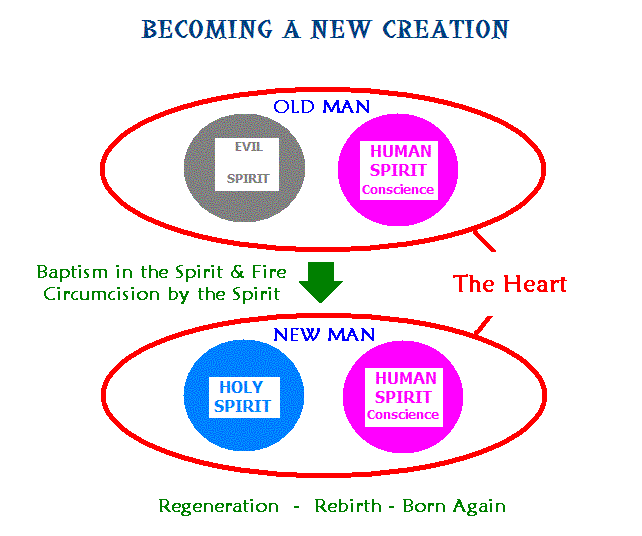 Fill my heart will your Spirit Oh Lord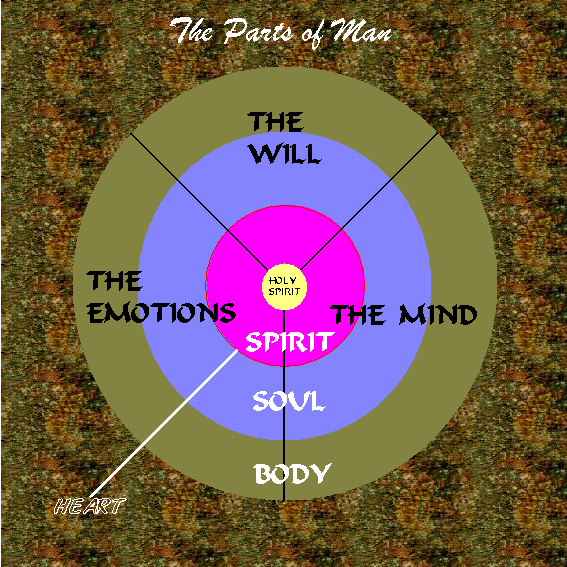 The Human Spirit

Gen 45:27 But when they told him everything Joseph had said to them, and when he saw the carts Joseph had sent to carry him back, the spirit of their father Jacob revived.

Num 14:24 But because my servant Caleb has a different spirit and follows me wholeheartedly, I will bring him into the land he went to, and his descendants will inherit it.

Num 27:18 So the LORD said to Moses, "Take Joshua son of Nun, a man in whom is the spirit, and lay your hand on him.

Deu 2:30 But Sihon king of Heshbon refused to let us pass through. For the LORD your God had made his spirit stubborn and his heart obstinate in order to give him into your hands, as he has now done.

Deu 34:9 Now Joshua son of Nun was filled with the spirit of wisdom because Moses had laid his hands on him. So the Israelites listened to him and did what the LORD had commanded Moses.

1 Sam 18:1 After David had finished talking with Saul, Jonathan became one in spirit with David, and he loved him as himself.

1 Sam 30:6 David was greatly distressed because the men were talking of stoning him; each one was bitter in spirit because of his sons and daughters. But David found strength in the LORD his God.

2 Sam 13:39 And the spirit of the king longed to go to Absalom, for he was consoled concerning Amnon's death.

1 Ki 22:21 Finally, a spirit came forward, stood before the LORD and said, 'I will entice him.'

1 Ki 22:22 " 'By what means?' the LORD asked. " 'I will go out and be a lying spirit in the mouths of all his prophets,' he said. " 'You will succeed in enticing him,' said the LORD. 'Go and do it.'

1 Ki 22:23 "So now the LORD has put a lying spirit in the mouths of all these prophets of yours. The LORD has decreed disaster for you."

2 Ki 2:9 When they had crossed, Elijah said to Elisha, "Tell me, what can I do for you before I am taken from you?" "Let me inherit a double portion of your spirit," Elisha replied.

2 Ki 2:15 The company of the prophets from Jericho, who were watching, said, "The spirit of Elijah is resting on Elisha." And they went to meet him and bowed to the ground before him.

2 Ki 5:26 But Elisha said to him, "Was not my spirit with you when the man got down from his chariot to meet you? Is this the time to take money, or to accept clothes, olive groves, vineyards, flocks, herds, or menservants and maidservants?

2 Ki 19:7 Listen! I am going to put such a spirit in him that when he hears a certain report, he will return to his own country, and there I will have him cut down with the sword.'"

1 Chr 5:26 So the God of Israel stirred up the spirit of Pul king of Assyria (that is, Tiglath-Pileser king of Assyria), who took the Reubenites, the Gadites and the half-tribe of Manasseh into exile. He took them to Halah, Habor, Hara and the river of Gozan, where they are to this day.

2 Chr 18:20 Finally, a spirit came forward, stood before the LORD and said, 'I will entice him.' "'By what means?' the LORD asked.

2 Chr 18:21 "'I will go and be a lying spirit in the mouths of all his prophets,' he said. "'You will succeed in enticing him,' said the LORD. 'Go and do it.'

2 Chr 18:22 "So now the LORD has put a lying spirit in the mouths of these prophets of yours. The LORD has decreed disaster for you."

2 Chr 18:23 Then Zedekiah son of Kenaanah went up and slapped Micaiah in the face. "Which way did the spirit from the LORD go when he went from me to speak to you?" he asked.

Job 6:4 The arrows of the Almighty are in me, my spirit drinks in their poison; God's terrors are marshaled against me.

Job 7:11 "Therefore I will not keep silent; I will speak out in the anguish of my spirit, I will complain in the bitterness of my soul.

Job 10:12 You gave me life and showed me kindness, and in your providence watched over my spirit.

Job 17:1 My spirit is broken, my days are cut short, the grave awaits me.

Job 26:4 Who has helped you utter these words? And whose spirit spoke from your mouth?

Job 31:39 if I have devoured its yield without payment or broken the spirit of its tenants,

Job 32:8 But it is the spirit in a man, the breath of the Almighty, that gives him understanding.

Job 32:18 For I am full of words, and the spirit within me compels me;

Job 34:14 If it were his intention and he withdrew his spirit and breath,

Psa 31:5 Into your hands I commit my spirit; redeem me, O LORD, the God of truth.

Psa 32:2 Blessed is the man whose sin the LORD does not count against him and in whose spirit is no deceit.

Psa 34:18 The LORD is close to the brokenhearted and saves those who are crushed in spirit.

Psa 51:10 Create in me a pure heart, O God, and renew a steadfast spirit within me.

Psa 51:12 Restore to me the joy of your salvation and grant me a willing spirit, to sustain me.

Psa 51:17 The sacrifices of God are a broken spirit; a broken and contrite heart, O God, you will not despise.

Psa 73:21 When my heart was grieved and my spirit embittered,

Psa 76:12 He breaks the spirit of rulers; he is feared by the kings of the earth.

Psa 77:3 I remembered you, O God, and I groaned; I mused, and my spirit grew faint. Selah

Psa 77:6 I remembered my songs in the night. My heart mused and my spirit inquired:

Psa 142:3 When my spirit grows faint within me, it is you who know my way. In the path where I walk men have hidden a snare for me.

Psa 143:4 So my spirit grows faint within me; my heart within me is dismayed.

Psa 143:7 Answer me quickly, O LORD; my spirit fails. Do not hide your face from me or I will be like those who go down to the pit.

Psa 146:4 When their spirit departs, they return to the ground; on that very day their plans come to nothing.

Prov 15:4 The tongue that brings healing is a tree of life, but a deceitful tongue crushes the spirit.

Prov 15:13 A happy heart makes the face cheerful, but heartache crushes the spirit.

Prov 16:18 Pride goes before destruction, a haughty spirit before a fall.

Prov 16:19 Better to be lowly in spirit and among the oppressed than to share plunder with the proud.

Prov 17:22 A cheerful heart is good medicine, but a crushed spirit dries up the bones.

Prov 18:14 A man's spirit sustains him in sickness, but a crushed spirit who can bear?

Prov 20:27 The lamp of the LORD searches the spirit of a man ; it searches out his inmost being.

Prov 25:13 Like the coolness of snow at harvest time is a trustworthy messenger to those who send him; he refreshes the spirit of his masters.

Prov 29:23 A man's pride brings him low, but a man of lowly spirit gains honor.

Eccl 3:21 Who knows if the spirit of man rises upward and if the spirit of the animal goes down into the earth?"

Eccl 7:9 Do not be quickly provoked in your spirit, for anger resides in the lap of fools.

Eccl 12:7 and the dust returns to the ground it came from, and the spirit returns to God who gave it.

Isa 4:4 The Lord will wash away the filth of the women of Zion; he will cleanse the bloodstains from Jerusalem by a spirit of judgment and a spirit of fire.

Isa 19:14 The LORD has poured into them a spirit of dizziness; they make Egypt stagger in all that she does, as a drunkard staggers around in his vomit.

Isa 26:9 My soul yearns for you in the night; in the morning my spirit longs for you. When your judgments come upon the earth, the people of the world learn righteousness.

Isa 28:6 He will be a spirit of justice to him who sits in judgment, a source of strength to those who turn back the battle at the gate.

Isa 29:24 Those who are wayward in spirit will gain understanding; those who complain will accept instruction."

Isa 31:3 But the Egyptians are men and not God; their horses are flesh and not spirit. When the LORD stretches out his hand, he who helps will stumble, he who is helped will fall; both will perish together.

Isa 37:7 Listen! I am going to put a spirit in him so that when he hears a certain report, he will return to his own country, and there I will have him cut down with the sword.'"

Isa 38:16 Lord, by such things men live; and my spirit finds life in them too. You restored me to health and let me live.

Isa 54:6 The LORD will call you back as if you were a wife deserted and distressed in spirit-- a wife who married young, only to be rejected," says your God.

Isa 57:15 For this is what the high and lofty One says-- he who lives forever, whose name is holy: "I live in a high and holy place, but also with him who is contrite and lowly in spirit, to revive the spirit of the lowly and to revive the heart of the contrite.

Isa 57:16 I will not accuse forever, nor will I always be angry, for then the spirit of man would grow faint before me-- the breath of man that I have created.

Isa 61:3 and provide for those who grieve in Zion-- to bestow on them a crown of beauty instead of ashes, the oil of gladness instead of mourning, and a garment of praise instead of a spirit of despair. They will be called oaks of righteousness, a planting of the LORD for the display of his splendor.

Isa 65:14 My servants will sing out of the joy of their hearts, but you will cry out from anguish of heart and wail in brokenness of spirit.

Isa 66:2 Has not my hand made all these things, and so they came into being?" declares the LORD. "This is the one I esteem: he who is humble and contrite in spirit, and trembles at my word.

Jer 51:1 This is what the LORD says: "See, I will stir up the spirit of a destroyer against Babylon and the people of Leb Kamai.

Lam 1:16 "This is why I weep and my eyes overflow with tears. No one is near to comfort me, no one to restore my spirit. My children are destitute because the enemy has prevailed."

Ezek 1:12 Each one went straight ahead. Wherever the spirit would go, they would go, without turning as they went.

Ezek 1:20 Wherever the spirit would go, they would go, and the wheels would rise along with them, because the spirit of the living creatures was in the wheels.

Ezek 1:21 When the creatures moved, they also moved; when the creatures stood still, they also stood still; and when the creatures rose from the ground, the wheels rose along with them, because the spirit of the living creatures was in the wheels.

Ezek 3:14 The spirit then lifted me up and took me away, and I went in bitterness and in the anger of my spirit, with the strong hand of the LORD upon me.

Ezek 10:17 When the cherubim stood still, they also stood still; and when the cherubim rose, they rose with them, because the spirit of the living creatures was in them.

Ezek 11:19 I will give them an undivided heart and put a new spirit in them; I will remove from them their heart of stone and give them a heart of flesh.

Ezek 13:3 This is what the Sovereign LORD says: Woe to the foolish prophets who follow their own spirit and have seen nothing!

Ezek 18:31 Rid yourselves of all the offenses you have committed, and get a new heart and a new spirit. Why will you die, O house of Israel?

Ezek 21:7 And when they ask you, 'Why are you groaning?' you shall say, 'Because of the news that is coming. Every heart will melt and every hand go limp; every spirit will become faint and every knee become as weak as water.' It is coming! It will surely take place, declares the Sovereign LORD."

Ezek 36:26 I will give you a new heart and put a new spirit in you; I will remove from you your heart of stone and give you a heart of flesh.

Dan 4:8 Finally, Daniel came into my presence and I told him the dream. (He is called Belteshazzar, after the name of my god, and the spirit of the holy gods is in him.)

Dan 4:9 I said, "Belteshazzar, chief of the magicians, I know that the spirit of the holy gods is in you, and no mystery is too difficult for you. Here is my dream; interpret it for me.

Dan 4:18 "This is the dream that I, King Nebuchadnezzar, had. Now, Belteshazzar, tell me what it means, for none of the wise men in my kingdom can interpret it for me. But you can, because the spirit of the holy gods is in you."

Dan 5:11 There is a man in your kingdom who has the spirit of the holy gods in him. In the time of your father he was found to have insight and intelligence and wisdom like that of the gods. King Nebuchadnezzar your father--your father the king, I say--appointed him chief of the magicians, enchanters, astrologers and diviners.

Dan 5:14 I have heard that the spirit of the gods is in you and that you have insight, intelligence and outstanding wisdom.

Dan 7:15 "I, Daniel, was troubled in spirit, and the visions that passed through my mind disturbed me.

Hosea 4:12 of my people. They consult a wooden idol and are answered by a stick of wood. A spirit of prostitution leads them astray; they are unfaithful to their God.

Hosea 5:4 "Their deeds do not permit them to return to their God. A spirit of prostitution is in their heart; they do not acknowledge the LORD.

Hag 1:14 So the LORD stirred up the spirit of Zerubbabel son of Shealtiel, governor of Judah, and the spirit of Joshua son of Jehozadak, the high priest, and the spirit of the whole remnant of the people. They came and began to work on the house of the LORD Almighty, their God,

Zec 12:1 This is the word of the LORD concerning Israel. The LORD, who stretches out the heavens, who lays the foundation of the earth, and who forms the spirit of man within him, declares:

Zec 12:10 "And I will pour out on the house of David and the inhabitants of Jerusalem a spirit of grace and supplication. They will look on me, the one they have pierced, and they will mourn for him as one mourns for an only child, and grieve bitterly for him as one grieves for a firstborn son.

Zec 13:2 "On that day, I will banish the names of the idols from the land, and they will be remembered no more," declares the LORD Almighty. "I will remove both the prophets and the spirit of impurity from the land.

Mal 2:15 Has not the LORD made them one? In flesh and spirit they are his. And why one? Because he was seeking godly offspring. So guard yourself in your spirit, and do not break faith with the wife of your youth.

Mal 2:16 "I hate divorce," says the LORD God of Israel, "and I hate a man's covering himself with violence as well as with his garment," says the LORD Almighty. So guard yourself in your spirit, and do not break faith.

Mat 5:3 "Blessed are the poor in spirit, for theirs is the kingdom of heaven.

Mat 26:41 "Watch and pray so that you will not fall into temptation. The spirit is willing, but the body is weak."

Mat 27:50 And when Jesus had cried out again in a loud voice, he gave up his spirit.

Mark 1:23 Just then a man in their synagogue who was possessed by an evil spirit cried out,

Mark 1:26 The evil spirit shook the man violently and came out of him with a shriek.

Mark 2:8 Immediately Jesus knew in his spirit that this was what they were thinking in their hearts, and he said to them, "Why are you thinking these things?

Mark 3:30 He said this because they were saying, "He has an evil spirit."

Mark 5:2 When Jesus got out of the boat, a man with an evil spirit came from the tombs to meet him.

Mark 9:26 The spirit shrieked, convulsed him violently and came out. The boy looked so much like a corpse that many said, "He's dead."

Mark 14:38 Watch and pray so that you will not fall into temptation. The spirit is willing, but the body is weak."

Luke 1:17 And he will go on before the Lord, in the spirit and power of Elijah, to turn the hearts of the fathers to their children and the disobedient to the wisdom of the righteous--to make ready a people prepared for the Lord."

Luke 1:47 and my spirit rejoices in God my Savior,

Luke 1:80 And the child grew and became strong in spirit; and he lived in the desert until he appeared publicly to Israel.

Luke 8:55 Her spirit returned, and at once she stood up. Then Jesus told them to give her something to eat.

Luke 9:42 Even while the boy was coming, the demon threw him to the ground in a convulsion. But Jesus rebuked the evil spirit, healed the boy and gave him back to his father.

Luke 23:46 Jesus called out with a loud voice, "Father, into your hands I commit my spirit." When he had said this, he breathed his last.

John 3:6 Flesh gives birth to flesh, but the spirit gives birth to spirit.

John 4:23 Yet a time is coming and has now come when the true worshipers will worship the Father in spirit and truth, for they are the kind of worshipers the Father seeks.

John 4:24 God is spirit, and his worshipers must worship in spirit and in truth."

John 6:63 The spirit gives life; the flesh counts for nothing. The words I have spoken to you are spirit and they are life.

John 11:33 When Jesus saw her weeping, and the Jews who had come along with her also weeping, he was deeply moved in spirit and troubled.

John 13:21 After he had said this, Jesus was troubled in spirit and testified, "I tell you the truth, one of you is going to betray me."

John 19:30 When he had received the drink, Jesus said, "It is finished." With that, he bowed his head and gave up his spirit.

Acts 7:59 While they were stoning him, Stephen prayed, "Lord Jesus, receive my spirit."

Acts 16:16 Once when we were going to the place of prayer, we were met by a slave girl who had a spirit by which she predicted the future. She earned a great deal of money for her owners by fortune-telling.

Acts 16:18 She kept this up for many days. Finally Paul became so troubled that he turned around and said to the spirit, "In the name of Jesus Christ I command you to come out of her!" At that moment the spirit left her.

Acts 19:15 One day the evil spirit answered them, "Jesus I know, and I know about Paul, but who are you?"

Acts 19:16 Then the man who had the evil spirit jumped on them and overpowered them all. He gave them such a beating that they ran out of the house naked and bleeding.

Acts 23:9 There was a great uproar, and some of the teachers of the law who were Pharisees stood up and argued vigorously. "We find nothing wrong with this man," they said. "What if a spirit or an angel has spoken to him?"

Rom 8:10 But if Christ is in you, your body is dead because of sin, yet your spirit is alive because of righteousness.

Rom 8:15 For you did not receive a spirit that makes you a slave again to fear, but you received the spirit of sonship. And by him we cry, "Abba, Father."

Rom 8:16 The spirit himself testifies with our spirit that we are God's children.

Rom 11:8 as it is written: "God gave them a spirit of stupor, eyes so that they could not see and ears so that they could not hear, to this very day."

Rom 15:5 May the God who gives endurance and encouragement give you a spirit of unity among yourselves as you follow Christ Jesus,

1 Cor 2:11 For who among men knows the thoughts of a man except the man's spirit within him? In the same way no one knows the thoughts of God except the spirit of God.

1 Cor 2:12 We have not received the spirit of the world but the spirit who is from God, that we may understand what God has freely given us.

1 Cor 4:21 What do you prefer? Shall I come to you with a whip, or in love and with a gentle spirit?

1 Cor 5:3 Even though I am not physically present, I am with you in spirit. And I have already passed judgment on the one who did this, just as if I were present.

1 Cor 5:4 When you are assembled in the name of our Lord Jesus and I am with you in spirit, and the power of our Lord Jesus is present,

1 Cor 5:5 hand this man over to Satan, so that the sinful nature may be destroyed and his spirit saved on the day of the Lord.

1 Cor 6:17 But he who unites himself with the Lord is one with him in spirit.

1 Cor 7:34 and his interests are divided. An unmarried woman or virgin is concerned about the Lord's affairs: Her aim is to be devoted to the Lord in both body and spirit. But a married woman is concerned about the affairs of this world--how she can please her husband.

1 Cor 14:2 For anyone who speaks in a tongue does not speak to men but to God. Indeed, no one understands him; he utters mysteries with his spirit.

1 Cor 14:14 For if I pray in a tongue, my spirit prays, but my mind is unfruitful.

1 Cor 14:15 So what shall I do? I will pray with my spirit, but I will also pray with my mind; I will sing with my spirit, but I will also sing with my mind.

1 Cor 14:16 If you are praising God with your spirit, how can one who finds himself among those who do not understand say "Amen" to your thanksgiving, since he does not know what you are saying?

1 Cor 15:45 So it is written: "The first man Adam became a living being" ; the last Adam, a life-giving spirit.

1 Cor 16:18 For they refreshed my spirit and yours also. Such men deserve recognition.

2 Cor 4:13 It is written: "I believed; therefore I have spoken." With that same spirit of faith we also believe and therefore speak,

2 Cor 7:1 Since we have these promises, dear friends, let us purify ourselves from everything that contaminates body and spirit, perfecting holiness out of reverence for God.

2 Cor 7:13 By all this we are encouraged. In addition to our own encouragement, we were especially delighted to see how happy Titus was, because his spirit has been refreshed by all of you.

2 Cor 11:4 For if someone comes to you and preaches a Jesus other than the Jesus we preached, or if you receive a different spirit from the one you received, or a different gospel from the one you accepted, you put up with it easily enough.

2 Cor 12:18 I urged Titus to go to you and I sent our brother with him. Titus did not exploit you, did he? Did we not act in the same spirit and follow the same course?

Gal 6:18 The grace of our Lord Jesus Christ be with your spirit, brothers. Amen.

Eph 2:2 in which you used to live when you followed the ways of this world and of the ruler of the kingdom of the air, the spirit who is now at work in those who are disobedient.

Phil 1:27 Whatever happens, conduct yourselves in a manner worthy of the gospel of Christ. Then, whether I come and see you or only hear about you in my absence, I will know that you stand firm in one spirit, contending as one man for the faith of the gospel

Phil 2:2 then make my joy complete by being like-minded, having the same love, being one in spirit and purpose.

Phil 4:23 The grace of the Lord Jesus Christ be with your spirit. Amen.

Col 2:5 For though I am absent from you in body, I am present with you in spirit and delight to see how orderly you are and how firm your faith in Christ is.

1 Th 5:23 May God himself, the God of peace, sanctify you through and through. May your whole spirit, soul and body be kept blameless at the coming of our Lord Jesus Christ.

2 Tim 1:7 For God did not give us a spirit of timidity, but a spirit of power, of love and of self-discipline.

2 Tim 4:22 The Lord be with your spirit. Grace be with you.

Phile 1:25 The grace of the Lord Jesus Christ be with your spirit.

Heb 4:12 For the word of God is living and active. Sharper than any double-edged sword, it penetrates even to dividing soul and spirit, joints and marrow; it judges the thoughts and attitudes of the heart.

James 2:26 As the body without the spirit is dead, so faith without deeds is dead.

James 4:5 Or do you think Scripture says without reason that the spirit he caused to live in us envies intensely?

1 Pet 3:4 Instead, it should be that of your inner self, the unfading beauty of a gentle and quiet spirit, which is of great worth in God's sight.

1 Pet 4:6 For this is the reason the gospel was preached even to those who are now dead, so that they might be judged according to men in regard to the body, but live according to God in regard to the spirit.

1 John 4:1 Dear friends, do not believe every spirit, but test the spirits to see whether they are from God, because many false prophets have gone out into the world.

1 John 4:2 This is how you can recognize the spirit of God: Every spirit that acknowledges that Jesus Christ has come in the flesh is from God,

1 John 4:3 but every spirit that does not acknowledge Jesus is not from God. This is the spirit of the antichrist, which you have heard is coming and even now is already in the world.

1 John 4:6 We are from God, and whoever knows God listens to us; but whoever is not from God does not listen to us. This is how we recognize the spirit of truth and the spirit of falsehood.

Rev 19:10 At this I fell at his feet to worship him. But he said to me, "Do not do it! I am a fellow servant with you and with your brothers who hold to the testimony of Jesus. Worship God! For the testimony of Jesus is the spirit of prophecy."